Best Electric Bicycles With A Belt Drive
When you are looking to purchase an electric bicycle, there are plenty of things you need to consider. For example, do you want an electric bicycle that uses the traditional chain system, or do you want one with a belt drive? Of course, there are pros and cons to each option. However, belt drive systems are becoming more popular each year. With that said, what are the best electric bicycles that use a belt drive?
Here we have gathered a list of our 10 favorite electric bicycles that use a belt drive.
Trek Allant+ 9S Stagger
Lekker Amsterdam GT Enviolo
Riese & Muller Supercharger
Stromer ST2
KBO Hurricane
Pedego Conveyer
Schindelhauer Heinrich Enviolo
Luna Cycle Fate BABE
Raleigh Centros Grand Tour
Vanmoof S3
Each of the electric bicycles we have listed above comes with a belt drive instead of a chain. Furthermore, they are all made of high-quality parts so they will last quite a long time. 
As you continue to read this article, we will describe what a belt drive is and list some of the pros and cons of using a belt drive. After that, we will also give a short but in-depth review of each of the 10 electric bicycles that we think are the best you can buy.
What Is A Belt Drive?
A belt drive is a long solid piece of rubber that is molded to have teeth. Much like how a bike chain has holes to catch the gears' teeth on your bicycle, a belt drive works oppositely. The belt itself has teeth that will slide into place in between the teeth of your gears. This causes belt drives to be quieter and more durable than your typical bicycle chain.
This technology was copied from the belts in cars and motorcycles and modified to fit onto a bicycle. However, belt drives on electric bicycles are not exactly new. It has been around for many years and used to be a costly addition to your electric bicycle. It turns out the minor advantages gained from using a belt drive instead of a chain were not worth the cost. Eventually, the cost for belt drive electric bicycles started to go down, and their popularity started to spike.
The Pros Of Using A Belt Drive Instead Of A Chain
There are a few upsides to using a belt drive instead of a bike chain. The benefits you gain are minor, but they might be what you are looking for. Below is a shortlist of the main benefits you will get from using a belt drive on your electric bicycle.
Belt drives are much lighter than chains

Belt drives allow you to be more efficient while cycling faster

Belt drives are easier to maintain

Belt drives are much quieter than bike chains
Belt Drives Are Much Lighter Than Bike Chains
Carbon fibers are used throughout the core of a belt drive. This allows a belt drive to be far lighter than a bike chain while still providing inherent robustness. Lightweight and durable. This resilience implies that, unless the belt drive is abused, it may endure a long period with enough durability to be cost-effective.
Belt Drives Allow You To Be More Efficient While Cycling Faster
A bike chain contains several moving links that might cause wasteful motion. Even if you take care of it and maintain it, it's still made up of metal pieces that rotate against each other. This, in turn, leads to energy loss. The effort you generate by pedaling is more immediately converted into the action of the wheels with a belt-drive, propelling you quicker. Faster without using more watt power. It sounds like a nightmare.
Belt Drives Are Easier To Maintain
A belt drive is far more durable than a chain drive. As a result, it may last two to four times as long as a standard bicycle chain. It will never require lubrication in the same manner as a chain would, and as a result, it is less prone to gather up related dirt. Cleaning might be as easy as a quick rinse down. This can lead to some savings on third-party maintenance and repairs during the life of a bike.
Belt Drives Are Much Quieter Than Bicycle Chains
A belt drive is also wonderfully silent, in addition to having the potential for a longer lifespan with less maintenance. There will be no more rattling bike chains to bother with. Consider it a bike's stealth mode. No matter how carefully you maintain your bike, a bike chain will always produce some noise. All of the metal components of a standard bike chain, together with the teeth of gears, generate noise.
The Cons Of Using A Belt Drive Instead Of A Chain
While the benefits of using a belt drive instead of a bicycle chain may sound appealing, there are some cons you will need to consider as well. Below will be a shortlist of cons that you need to know before committing to a belt drive electric bicycle.
Belt drives require specific parts and frames
Belt drives are less flexible than bicycle chains
Belt drives require an internal gearing system
Belt Drives Require Specific Parts And Frames
A belt drive is a single unit with no connecting elements. This results in efficiency and minimum energy loss, but it decreases your convenience of use. On the other hand, a chain is a set of links that you may detach and reassemble as needed. However, because you cannot open belt drives like a chain, the bike's frame must accommodate the installation of the belt. This implies that there must be split places in the frame's rear geometry where the belt can be housed.
Belt Drives Are Less Flexible Than Bicycle Chains
The main disadvantage of a belt is that, unlike chains, it does not allow for side flexibility. A traditional chain's side flexibility allows it to glide up and down between gears, allowing for variable-sized gear ratios. Unfortunately, this means that variable gear ratios for belt drives are not possible.
Belt Drives Require An Internal Gearing System
The fact that a belt drive cannot handle lateral movement between gear gears does not signal the end of the world. You don't have to be locked into a fixed gear system to appreciate a belt drive. The Gates belt drive system's ingenious designers have the solution. You are gearing on the inside. It has only one disadvantage: unlike a road bike, which can easily give up to 20 gears with internal gearing, you will be confined to a considerably narrower range.
Best Electric Bicycles With A Belt Drive
Now that you thoroughly understand what a belt dive is and the pros and cons associated with using one let's get into the meat and potatoes. Belt drive bicycles are becoming more popular with each passing year. Maybe it's because of the increased durability and longer life span of the belt. Perhaps it is because a belt drive uses your energy more efficiently. Either way, belt drives should always be in consideration when you are purchasing a new electric bicycle.
With that said, here is the list of our favorite electric bicycles that come with a belt drive. Each of the bicycles in this list is made of high-quality parts and is guaranteed to last. Not only that, but each of these bicycles is not much more expensive than their traditional chain counterparts, which is a big plus in our books.
Trek Bikes' Allant+ 9S Stagger eBike is a brand new model for 2021. The Allant is one tough electric bicycle with a strong appearance but a weight of 23.6kg that is comparable to others on our list. Trek's objective is to create a unisex frame in lightweight aluminum with a drop-top tube. It's a risky design choice, and I'm not persuaded it'll be truly one-size-fits-all in the spirit of a Brompton, but it's a courageous one.
With the Bosch motor generating a somewhat lower max power output of 75Nm, this features one of the most powerful batteries on our list of belt drive eBikes. The battery capacity is a whopping 625 Wh, given in the form of an integrated battery. This combo has a range of up to 150 miles of aided riding. However, this varies considerably based on pace, cadence, and weight.
The Allant + 9S comes standard with a Suntour suspension front fork with lockout for people who don't want to sacrifice power for speed. The seat post includes suspension to reduce the requirement for complete suspension while being cost-effective. The Allant also includes 4-piston hydraulic disc brakes for confidence in all-weather scenarios, in conjunction with suspension. Mudguards, a rear rack, and lights complete the package, making it an all-rounder.
Lekker Amsterdam GT Enviolo
The Amsterdam GT Enviolo will be a revolutionary new electric bicycle in 2021. Unfortunately, the Lekker Amsterdam GT Enviolo is only available at one speed. However, with an integrated battery within the frame, it may easily pass for a conventional bike and appeal to many people.
The Amsterdam GT is very well specced using the Gates CDX belt drive system and the lightweight Samsung 410Wh cell battery giving a range of up to 65 miles on a single charge. If you are looking for more power to give assurance on range and infrequency of charging, there is also a 500Wh battery that can reach up to 90-mile range.
Riese & Muller Supercharger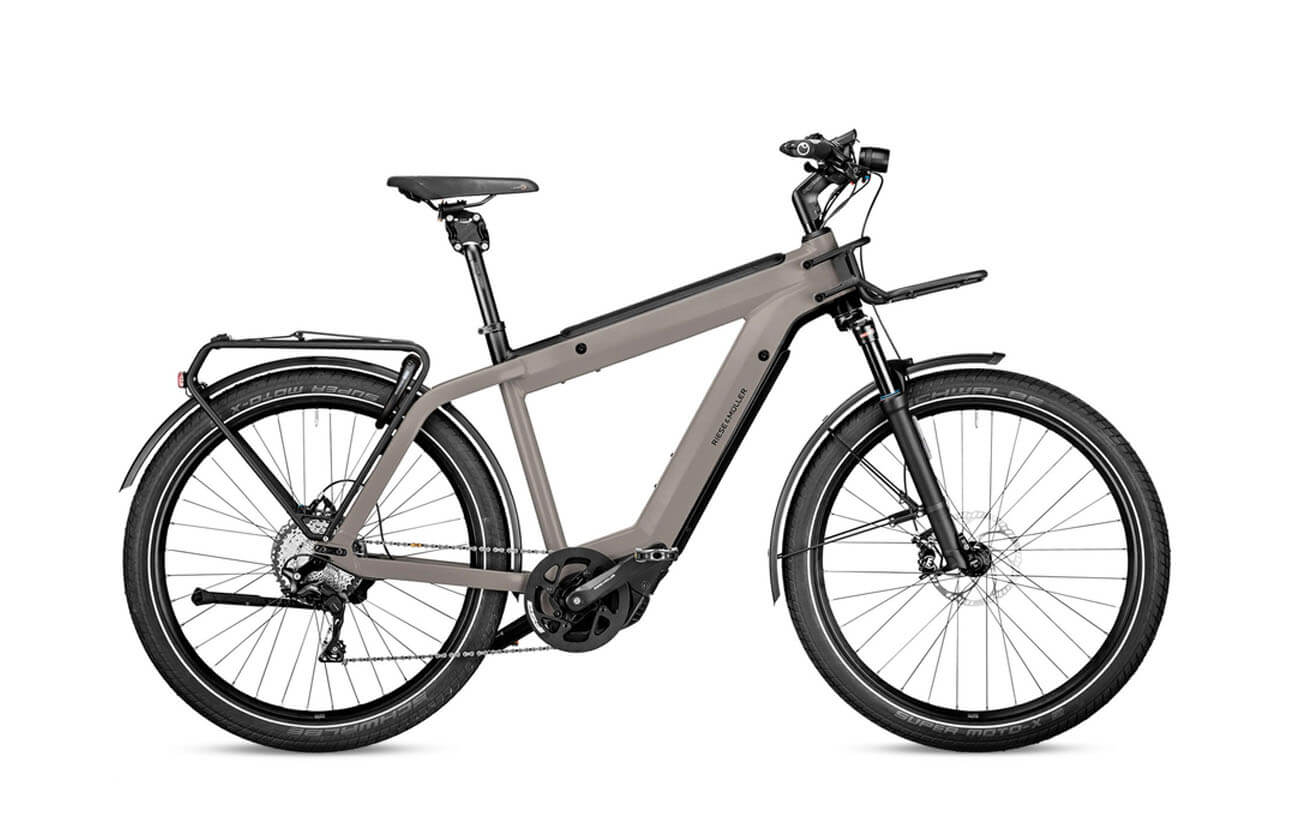 The Supercharger is a heavy-duty electric bike. It's a rigid bike that can handle practically any scenario. Riese & Muller is another German company that manufactures some of the most adaptable electric motorcycles on the market. The Supercharger is the company's flagship model, and it gets its name from its extra-large battery capacity. It has twin in-frame 500Wh Bosch battery packs for 1000Wh of power and excellent battery life.
The Supercharger also has a Rohloff 14-speed internal transmission system with a 1:5.6 gear ratio. This mechanism enables the rider to change gears while stationary. However, changing gears requires the user to stop pedaling, which might take some getting accustomed to.
This bike's standout characteristics include a massive battery pack with a 100-mile range, high speeds of up to 28 miles per hour, and heavy-duty tires and wheels. The Supercharger also has a seat and front wheel suspension for further ride comfort, two luggage racks, and high-quality componentry.
Stromer ST2
The ST2 is one of the market's most well-equipped, contemporary, and efficient electric bicycles. This model has features that nearly no other commuter bike has, making it the best choice for individuals who want the greatest technical versatility from their commuter bike. In addition, the ST2 is distinguished from other Stromer e-bikes by its low-maintenance and long-lasting Gates carbon belt drive.
It distinguishes itself from the others on this list thanks to its ingenious digital connectivity. The Stromer ST2 has wireless communication with the OMNI app, which gives the user greater control over their bike than any other. The software allows the user to make customized modifications to the engine settings, track mileage, and personal performance, and locate the bike using onboard GPS. It even enables the ST2 to be automatically locked and unlocked over Bluetooth.
The ST2 also features a range of 75 to 100 miles, a rear hub-mounted electric motor with pedal help up to 28mph, and a completely configurable riding posture. However, one of the most significant features of this Swiss-made bike is that it is entirely customizable. You can choose the specific characteristics that they desire and then choose from a list of compatible parts given by Stromer.
The KBO Hurricane was chosen for this list because it is distinctive among belt-driven electric motorcycles. In addition, the Hurricane is intended to be a "stealth" urban bicycle. It is designed to be as sleek and unobtrusive as possible, with minor indications that it is powered by electricity. This is accomplished by a straightforward design, an integrated battery pack, and an integrated back hub single-speed motor.
Because it is a single-speed electric bike, the Hurricane does not have a transmission. It does, however, feature three power settings that govern how much pedal support the rider receives. This is one of the most reasonably priced e-bikes built to this high standard, costing only $1099.
The Hurricane is compact and features a 345Wh Panasonic battery pack, a 350W hub motor, and a range of 45+ miles. This bicycle may appear to be basic, but it is a really competent electric road bike that is suitable for practically any rider.
The Pedego Conveyor is a rugged model from one of the best e-Bike manufacturers. It has a lot of subtle details and is one of the toughest-looking models on this list. The Conveyor is outfitted with a Brose brushless geared mid-drive 250W motor, a 36V 13ah battery pack with quick charging capability, and a full-color Brose comfort control panel with a joystick toggle. In addition, it has a headlight and a tail light.
This electric bike has a rear geared hub with an internal 8-speed system. The Conveyor's driving belt is a Gates CDX that is attached to a Gates drive sprocket. The braking system of the bike is piston hydraulic, with Tekro organic disc brakes. A kickstand and fenders are also included with the Pedego Conveyor.
Schindelhauer Heinrich Enviolo
Schindelhauer is a German e-bike company founded in 2008 by two friends shortly after graduating from university. This is significant since their original plan was to produce electric bicycles with belt drives. This implies that all Schindelhauer bikes are built from the bottom up to work well with belt drives, rather than being retrofitted as a belt drive e-bike later on. As a consequence, every component is optimized to the greatest extent feasible.
It has a strong Bosch Performance Line motor, a 500Wh Bosch PowerTube battery, an Enviolo rear hub gear system, and a Bosch Kiox full-color control panel display and control system. The battery pack is built into the bike's frame, and it comes with lights, mudguards, a pannier rack, and a kickstand. Another significant advantage of this type is that it is available in three different frame sizes to accommodate riders of all heights.
The Fat BABE produced by Luna Cycle is the most stylish and modest fat e-bike on the market. However, the sleek appearance and design are not indicative of performance. This is one of the fastest and most powerful fat e-bikes on the market. The Fat BABE is powered by a Bafang M600 800W engine and a 5-way internal Sturmey Archer RSX-RK5 gear hub.
All of these elements are internally mounted yet totally accessible for repairs and replacements, which means you can be as harsh with the Fat BABE as you want without concern of difficulties in performing repairs. This electric bike has a Gates Carbon belt drive that is extremely easy to repair. Belt drives outperform chain drives in terms of efficiency and need substantially less maintenance. They are known for their robust simplicity and excellent power transfers.
Raleigh Centros Grand Tour
Raleigh may be the only e-bike brand you've heard of on this list. This alone lends legitimacy to the Centros Grand Tour. In addition, the Centros Grand Tour is Raleigh's only e-bike featuring a belt drive system.
This variant has a 500Wh battery pack and a Bosch electric motor. Because of the battery capacity and compact weight have a remarkable range of up to 140 miles. Unfortunately, despite being the lightest electric bike on this list, it only provides pedal assistance up to 15.5mph. The Centros Grand Tour comes standard with an 8-speed Nexus gearbox, hydraulic disc brakes, a Bosch Intuvia digital display, and Gates carbon belt drive.
This is one of the world's most sought-after electric motorcycles. These e-bikes are intended for the most discriminating bike user, yet their popularity is rising due to their high build quality and distinctive design characteristics. Although this bike isn't intended to be the most powerful on the market, it is intended to be the best for city commuting.
The X3 features a modest, compact design yet is one of the most pleasant rides available. The X3 also has modern technologies, including temper detection, theft protection, and a lockdown mode that will shut down the bike if it is stolen. It also has an intelligent electric motor, an electronic shifting mechanism, and hydraulic braking. The X3's standout feature, though, is its 504Wh battery, which has a riding range of more than 90 miles.
Final Thoughts
Belt drives on electric bicycles are absolutely fantastic. They provide more efficiency than traditional bike chains and are much sturdier. Hopefully, with the list of electric bicycles that we have provided, you now know what you're looking for when it comes to belt drives on e-bikes. Who knows, maybe we showed you the perfect bicycle for you!