Best Indoor Cycling Bikes under $300
Indoor cycling is great for your fitness regimen. Fortunately, you can enjoy the many health benefits of cycling indoors without investing a fortune in high-end fitness bike models. With just 300USD or less, you and your family can exercise comfortably in the convenience of your of your home without risking injuries or worsening existing body pain.
We have compiled a review of some of the best indoor cycling bikes under $300 to save you some time and money. You may find cheaper options than the bikes mentioned below, but these specific indoor exercise bikes offer the best combination of good parts, durability, low price, as well as ability to offer a comfortable workout session.
4 best Indoor cycling bikes under $300
Many people are confused by the terminology "cheap" when used in indoor bike sales. There is a huge difference between a cheap bike and a cheaply made bike. Cheap may be associated with something made at a low cost but cheap also means a high value in the quality of a commodity rather than being substandard.
Whatever your needs for buying a new exercise bike, you should always get the best value worth your money. Don't settle for an ordinary exercise bike just because you're working with a tight budget. Bike manufacturers are known to mass-produce cheap bike models that can barely get your workout session done or even last a decade. 
These bikes masquerade as new and improved versions of old bikes but barely deliver on their promise. If your budget is limited but still requires a good indoor exercise bike, you have to do some market research. The internet is a treasure trove for such review information about the different exercise bike options. The growth of internet marketing has also helped avail information that should be analyzed before buying a bike.
Below are the bikes we found worth looking at.
MaxKare Recumbent Exercise Bike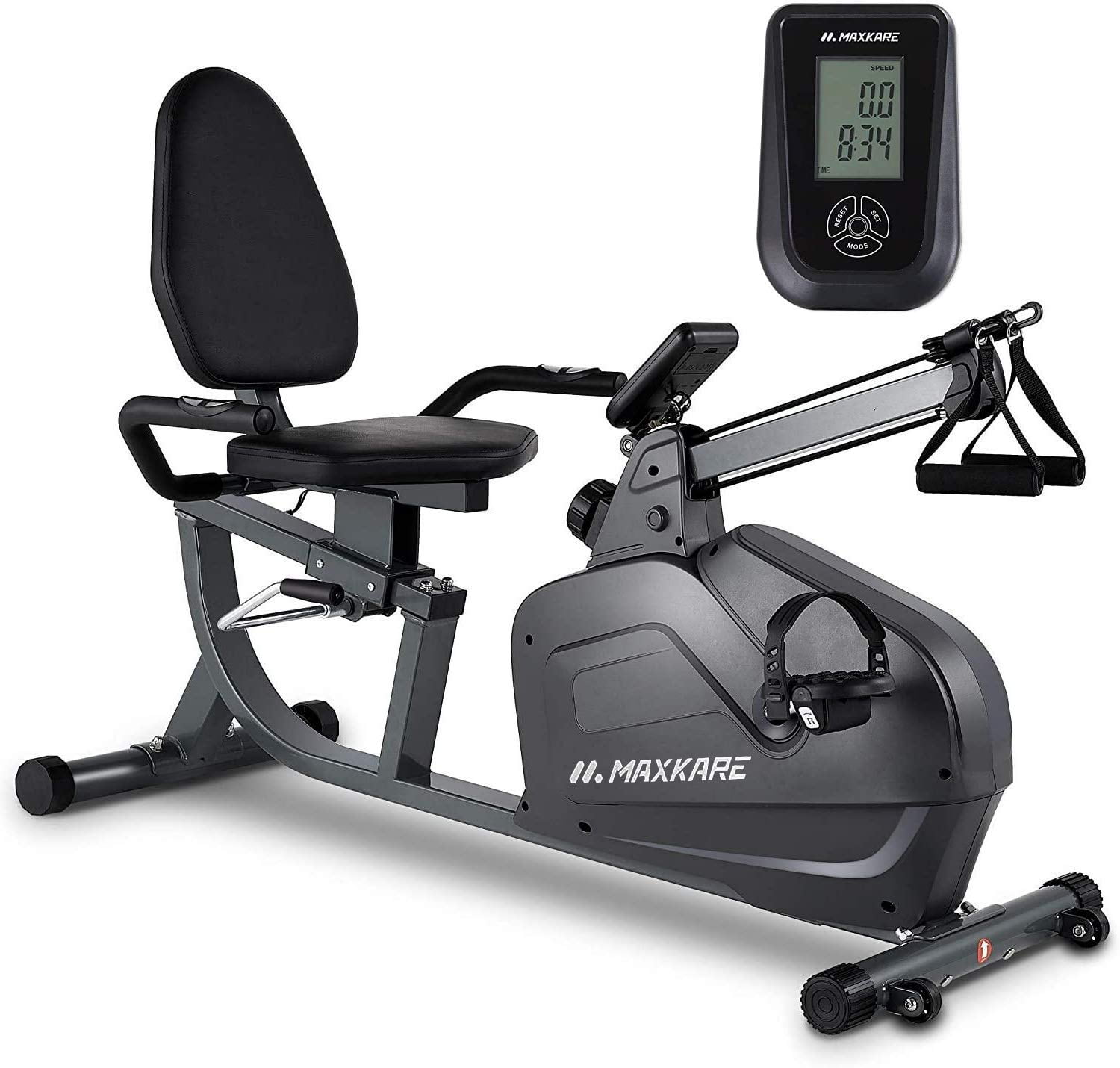 The MaxKare's Recumbent Exercise Bike is a popular indoor exercise bike among the sporting community with some noteworthy features. For starters, the bike frame is made of steel and can support a maximum weight capacity of up to 300lbs. Unfortunately, the exact weight that the bike can support is yet to be determined because MaxKare lists both 220lbs and 300lbs. This should however not be a problem for you if you weigh below 220lbs.
The recumbent bike features eight different levels of magnetic resistance and a belt drive mechanism. The combination of these two features provides for a smooth pedaling experience when getting your workout done.
In addition, MaxKare's Recumbent Exercise bikes has a console for tracking your fitness regimen and two handlebars for support. The seat used on this bike is standard and is the same as that used on typical recumbent bikes. You can adjust the seat through an adjustment lever to accommodate a height between 5'0″ and 6' 3″.
The bike also has accessories such as a tablet holder. This will allow you to install a good fitness app that can track your exercise progress, join virtual cycling platforms, or even enjoy a good program on movie streaming apps like Netflix.
In general, the MaxKare's Recumbent bike is a great budget bike worth its price. The belt drive, magnetic resistance mechanism, and tablet holder make this bike an appealing option for anyone looking for a budget-friendly recumbent bike.
Pros
Belt drive system
8 magnetic resistance levels
Two sets of handlebars
Tablet holder
Cons
Both the maximum weight capacity and flywheel weight are not specified.
Sunny Health and Fitness SF-RB4616 Magnetic Recumbent Exercise Bike
A product from the Sunny Health and Fitness Company, the SF-RB4616 is a high-quality indoor exercise bike that boasts appealing features at a budget-friendly price.
With a steel frame that can support a maximum capacity of 300lbs, this bike offers the best value for the price compared to other indoor exercise bikes. Well, the brand may not have specified the flywheel weight but the overall weight of the bike suggests that it can handle approximately 10lbs.
The SF-RB4616 offers eight levels of magnetic resistance, which when combined with the belt-driven bike system it features, serves to provide a very smooth and quiet pedaling experience.
Perhaps one of the most appealing features of the SF-RB4616 bike is the presence of two handlebars, which is not a common feature in many indoor exercise bikes under $300. One handlebar is placed at the sides of the bike seat, while the other is positioned towards the front, near the console.
 When you grip the handlebars near the console, you can have a more intensive workout, which in turn burns more calories from the body. The console used on the bike is also easy to set up and use. It will help you track the progress o your workout sessions by displaying important metrics like the time, RPM, and distance covered.
In addition, the seat and backrest used on the SF-RB4616 model are both wide and comfortable. Even though you can only adjust the bike in two ways, the bike can comfortably accommodate different heights, mainly between 5' 0″ and 6' 5.
The SF-RB4616 Magnetic Recumbent Exercise Bike may lack additional miscellaneous features that could have added to the convenience of exercising on this bike, but overall a great indoor exercise bike that can help you achieve your fitness goals.
Pros
Eight levels of magnetic resistance
Two sets of handlebars
Long-lasting frame
Offers a wide variety of height adjustments
Cons
The manufacturer does not disclose the range of resistance
No miscellaneous accessories such as a media station and a water bottle holder
Xterra Fitness FB350 Folding Exercise Bike
The Xterra Fitness FB350 Folding Exercise Bike is a semi-recumbent exercise bike that is a popular option for low-budget indoor cycling enthusiasts. Unfortunately, the bikes retail at a low price because the manufacturers focused on producing a cheap bike at the expense of features. However, it is a great option especially for beginners trying to meet their daily exercise needs by cycling indoors.
The bike features a unique x shaped frame that is made of steel and can only support a maximum weight capacity of only 225lbs. The capacity might be low, but it is typical for bikes that retail for less than $150.
The flywheel weight capacity is also significantly lower as it can only support a mere 3.3 lbs. This means that a rider will have to rely on their pedaling speed to burn more calories. Fortunately, this bike offers smooth pedaling action due to the magnetic resistance incorporated into the bike. The belt drive system used also contributes to smooth biking. Thus, you are likely to disturb anyone else in a room while exercising.
Another noteworthy feature is the ability to fold and store the exercise bike while not in use. This is especially handy when you are working with a limited amount of space in your house.
The seat used on the bike is wide and adjustable. However, you cannot adjust the handlebars for comfort. Other features you can expect to find on this bike include; an accessory pocket for items such as a phone or mp4 music player, transportation wheels, and a small data tracking console.
In a nutshell, the FB350 exercise bike model is a good cheap bike worth the price it retails for. It will enable you to get your workout done without breaking it down within the first month of purchase.
Pros
Belt driven system
Can fold to make storage easier
Eight levels of magnetic resistance
Very cheap
Cons
Light Flywheel
Low maximum weight capacity
Exerpeutic Folding Magnetic Upright Exercise Bike
The Exerpeutic Folding Magnetic Upright Exercise Bike is almost similar to the Xterra's FB350 bike model but with two major differences. First, the Exerpeutic model does not retail with a backrest since it's an upright type of exercise bike model. Second, unlike the low maximum weight capacity of 225lbs common with the FB350, the Exerpeutic bike model offers a maximum weight capacity of 300lbs. 
Unfortunately, the manufacturers of this folding exercise bike do not disclose the weight of the flywheel. However, it offers eight different levels of magnetic resistance when pedaling while generating low tension. The bike also features a belt-driven system, which when combined with the magnetic resistance mechanism provides for a quiet and smooth pedaling experience.
This bike is also a great choice for people working with limited workout space. You can easily fold the bike and store it while not in use. Besides, with its minimalist footprint, it is likely to occupy a small space when folded. In addition, the bike offers a small console where you can track your workout data.
In terms of the seat provided, the bike features adjustable seats, which can comfortably accommodate varying heights between 5' 3″ and 6' 1″. However, if you are taller, than 6 inches, this bike will not be suitable. 
Overall, the Exerpeutic Folding Magnetic Upright Exercise Bike is a great bike that can assist with your workout regimen. Retailing at less than $150, it is among the cheapest indoor cycling bikes and is great for anyone looking for some light indoor workout sessions.
Pros
Easy to store and fold
Belt driven system
Eight levels of magnetic resistance
High maximum weight capacity -300lbs
Cons
The manufacturer does not specify the resistance range
Cannot accommodate users above 6' 1″
What to Consider When Buying a Cycling Bike
Since budget-friendly exercise bikes tend to be of lower quality than other premium models, you need to be more vigilant when purchasing a bike to cater to your specific exercise needs. Before you make any significant investment on an indoor exercise bike, here are a few factors that you have to consider.
Recumbent versus Upright Exercise Bike
After formulating a budget, you have to choose the type of bike you want to use for your workout session, whether an upright or recumbent exercise bike. The main dissimilarity between these two types of bikes is the sitting position as you exercise.
Recumbent bikes typically feature a seat with a backrest that prompts one to sit in an upright position as you are stacking up miles while exercising. This reclined sitting position helps prevent lower back pains resulting from hunching over your bike during exercise. The large seats used in recumbent bikes also help evenly distribute body weight across the buttocks.
On the other hand, upright bikes take up a small area of the gym space and have smaller footprints, making them easier to move around. Upright bikes also offer a wide range of seat heights because one needs only to go up or down to adjust the height instead of using a fore and aft like in recumbent bike models.
Upright bikes may have broader and padded seats, but they still concentrate the bodyweight on the sitting bones (ischial tuberosity). When you place too much pressure on the sitting bones, your ride is likely to become uncomfortable and lead to damaged muscles and nerves in the long run.
Ultimately, the choice between the two will depend on two things. If you have existing aches, pains, or injuries, a recumbent bike is an ideal option for you. However, if you are pain/injury-free, and want to save up on space, an upright bike is better suited for your workout regime.
The Bike Frame
At $300, the frame of an indoor cycling bike should be made of steel, even though you are less likely to find one made out of heavy-duty steel. The best way to check the durability of a bike frame is to check the maximum weight capacity that it can sustain.
Many cheap indoor cycling bikes that retail for $300 or less have a weight capacity between 250-300lbs, which is the standard. However, so long as your weight does not exceed the maximum capacity, you can comfortably exercise on an exercise bike without any issues.
When choosing an indoor bike based on the frame, consider choosing a size that your gym space can accommodate. If you are working with limited space, you can opt for a bike with a smaller footprint such as folding exercise bikes. 
Resistance Options
Bikes that retail for $300 offer two different kinds of resistance mechanisms. These are direct contact and magnetic resistance mechanisms.
Magnetic resistance utilizes magnets that are put around the flywheel to generate friction through magnetism. Whether using an electric or manual adjustment system, the bike can alter the distance of the magnets from the flywheel to create resistance. The closer the magnets are, the more resistance one experiences.
Direct contact systems on the other hand use discs or pads that are fitted to have contact with the flywheel to generate friction, making pedaling more difficult.
Magnetic mechanisms are more superior among the two because they can offer riders smoother pedaling motions with minimal wear and tear. Magnetic resistance bikes are also quieter, which ensures that you do not disturb anyone in the room while exercising.
These advantages, however, do come at an extra cost compared to the alternative. Contact resistance bikes may be cheaper, but they add more strain to the bicycle components and are noisier. In addition, the discs used in the mechanisms tend to wear out and require replacement from time to time. So, if you do not want to spare any expenses for your workout regimen, consider going for the magnetic resistance bikes.
Drive System
The drive system works with the resistance mechanisms, to determine just how smooth you can peddle on a stationary bicycle. There are two drive systems in indoor cycling bikes, namely, belt and chain drive systems.
Chain-based systems are similar to the chains used in outdoor bikes and make pedaling indoors seem more realistic. However, this makes the system susceptible to breakages, and thus, they need to be lubricated as often as possible.
On the other hand, belt drives tend to be smoother when pedaling. They may feel mechanical but they are a more convenient option as they don't need replacement or lubrication.
Bike Seat
The design of the seat is also an important factor you consider when buying an indoor exercise bike. If you intend to host regular workout sessions with friends and family, ensure that your seat is adjustable to accommodate everyone. Never compromise on comfort in your workout routine. Well, you might purchase seat covers to make the seat more uncomfortable, but you can avoid the extra cost by choosing a bike with a comfortable seat from the word go.
Conclusion
Today, many people are looking for easy and efficient ways to exercise their bodies without compromising on their budget and busy schedules. This often entails, having a quick workout session in the morning or evening from the comfort of your own home. Perhaps the biggest misconception in body fitness is the belief that one has to invest thousands of dollars annually in purchasing exercise bikes and gym memberships to burn calories.
However, you can spend as little as $300 or less in purchasing an indoor exercise bike that will help you achieve your fitness goals. To get the best quality for your money, compare the features of the above-mentioned cheap bike brands in the market to get one that fits your needs and lifestyle.