Our Yamaha E-Bike Overview
Yamaha's brand of electric bicycles has risen in popularity in recent years. Yamaha was one of the first major bicycle manufacturers to start making electric bicycles in the '90s. Since then, Yamaha has made strides in the electric bicycle industry by producing tons of different models and advancing electric bicycle technology. 
Yamaha offers quality electric bikes with excellent energy consumption, styles, customization options, and e-bikes for each of the three classifications. Not only that, but all of Yamaha's electric bicycles have a fair cost. They are all made with quality parts that guarantee a long life span for your electric bicycle.
While there are other brands that you can go with, you will likely see Yamaha electric bicycles everywhere you shop. Whether due to brand loyalty or being one of the original producers of electric bicycles, Yamaha is a fantastic brand with excellent electric bicycles. 
As you continue to read our overview of Yamaha's electric bicycles, we will cover a vast array of features that you can expect from the Yamaha brand.
Yamaha Electric Bicycle History
First of all, we would like to take the time to go over the history of Yamaha's impact on the electric bicycle industry. Yamaha first started in 1887 by making their first reed organ. Yamaha continued to create and manufacture musical instruments until 1955, when they established Yamaha Motor Company. After that, Yamaha Motor Co. started making tons of motorcycle models. 
Eventually, in 1989 Yamaha Motor Co. created their first electric bicycle prototype. A few years later, in 1993, Yamaha produced their first pedal-assist electric bicycle in Japan, which would later become the standard for electric bicycles across the world. 
With their first big success, Yamaha decided to start improving the technology for their electric bicycles. So in 1995, they produced one of the first improvements on the electric motor for electric bicycles, which allowed for easier and faster recharging. Yamaha would do the same in 1999 and 2003, with each new motor design becoming lighter and stronger. 
Yamaha Motor Co. would continue to make strides and create new electric bicycle models. In 2013, Yamaha produced their next great innovation. This new smaller, and stronger motor was able to provide an even smoother ride than before. Furthermore, this new motor is able to sense inclines and declines on your path, which will adjust the amount of support it would provide, significantly increasing its battery life. This breakthrough would later be the foundation for all of the electric bicycle motors that are used today.
As you can see, Yamaha Motor Co. is a cornerstone in the electric bicycle industry. There is a good chance that it would not be where it is today without Yamaha's contributions to the industry.
Energy consumption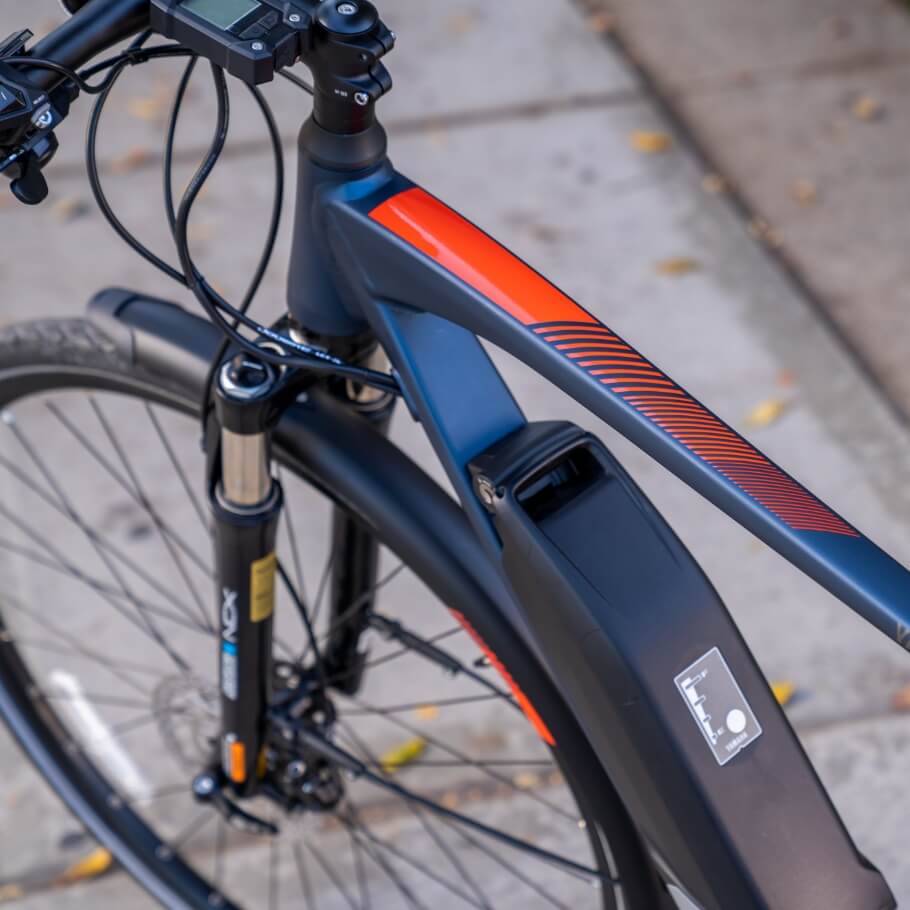 Yamaha's ability to make the technology needed to bolster the industry is what makes them stand apart from the rest. With that said, Yamaha is able to have cutting-edge motors and batteries for their electric bicycles, giving all of their bicycles a vast range. 
Just about all Yamaha electric bicycles that have been made in the past five years can ride for a very long time before needing to be recharged. With their technology, they can make super-efficient batteries and motors that have a maximum range of 80 to 100 miles before needing a recharge. This is nearly double of just about every other electric bicycle on the market.
Furthermore, the batteries that come with Yamaha electric bicycles are very durable and charge exceptionally quickly. When you take the battery off your bicycle for recharging, you can expect the battery to be fully charged in three to four hours. 
Electric Bicycle Laws
Before we continue, there is something important you need to know. The laws regarding electric bicycles are very complex and hard to understand completely. In the United States, electric bicycles are separated into three classifications. 
The three classes for electric bicycles are as follows:
Class 1 Electric Bicycle
A class 1 electric bicycle is a bicycle that has an electric motor that provides assistance to the rider only while they are pedaling. The assistance from the motor ceases once the rider stops pedaling or the bicycle reaches a maximum speed of 20 miles per hour.
Class 2 Electric Bicycle
A class 2 electric bicycle is a bicycle with an electric motor that can be revved using a throttle located on the handlebars of the bicycle. The electric motors in class 2 electric bicycles have a maximum speed of 20 miles per hour.
Class 2 electric bicycles can also have pedal assistance like class 1 electric bicycles.
Class 3 Electric Bicycle
A class 3 electric bicycle is an electric bicycle that is equipped with a speedometer.
Furthermore, class 3 electric bicycles have an electric motor that only provides assistance to the rider while pedaling. The assistance from the motor ceases once the rider stops pedaling or when the bicycle reaches its maximum speed of 28 miles per hour. 
Class 3 electric bicycles can also come with a throttle like class 2 electric bicycles.
With the classifications out of the way, let's briefly talk about the laws associated with these classifications. If you own an electric bicycle, you must look up and study the laws for the state or country you live in. Every state in the United States has varying laws for each class of electric bicycle. 
Here are some examples of electric bicycle laws in the United States.
In California, you are required by law to wear a helmet when riding a class 1 or class 2 electric bicycle if you are under the age of 17. However, you are required to wear a helmet by law regardless of age for class 3 electric bicycles. 
In Alabama, you need to be at least 14 years old to operate an e-bike and wear a helmet under the age of 17. Furthermore, you will also need to purchase a special license and insurance before you can legally ride your e-bike
In Arizona, no age restrictions nor helmet laws surround the use of electric bicycles. 
As you can see, laws can vary state by state and in the examples provided above. So if you are interested in purchasing an electric bicycle, do yourself a favor and research the laws in your state or country.
What Types Of Electric Bicycles Does Yamaha Make?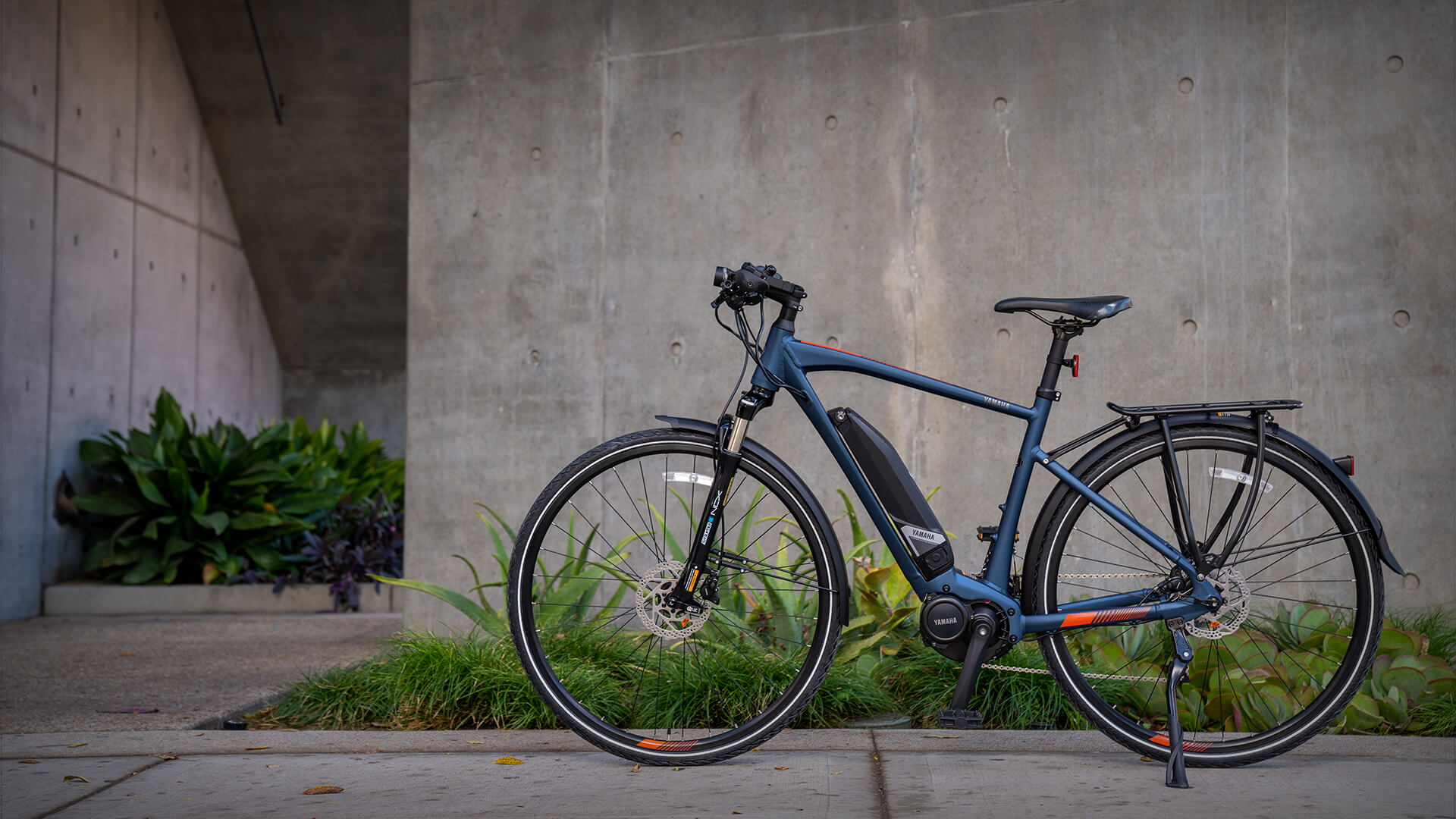 When it comes to Yamaha's electric bicycles, they are all pedal-assist models. Yamaha does not manufacture or produce class 2 electric bicycles. Yamaha also has a strict code where they do not produce any electric bicycle that has a throttle. 
They believe adding a throttle will make the rider unsafe because they cannot control the speed. Furthermore, adding a throttle on an electric bicycle causes you to miss out on a major benefit of cycling, which is exercise. 
With that said, Yamaha only makes class 1 and class 3 electric bicycles. The bicycle that Yamaha produces follows the class system strictly. For instance, all class 1 electric bicycles have a maximum speed of 20 miles per hour. At the same time, all class 3 electric bicycles are equipped with a speedometer and can reach 28 miles per hour. 
So if you are looking for an electric bicycle with a throttle, you will need to look for a brand other than Yamaha. 
How Much Do Yamaha Electric Bicycles Cost?
Yamaha manufactures and produces eight different electric bicycles. Every bicycle that they make is made with high-quality parts and with safety in mind. In addition, each bicycle comes with Yamaha's patented "triple sensor system." This system tracks the torque acquired from pedaling power, a crank sensor to keep track of the pedal rotations, and a speed sensor. All of these sensors work together to provide a superb riding experience that is incredibly smooth. 
Not only that, but the three sensors also help the motor change how much power it is giving out. This allows the motor to assist the rider more by increasing power on inclines and decreasing power on declines and instances of steady and slow peddling. 
Yamaha electric bicycles are also equipped with cutting-edge disc brakes that will guarantee that you stop when you need to. All of these parts are attached to sleek and stylish frames. 
With that said, every Yamaha electric bicycle might have a steep price tag. Still, you will know that the electric bicycle that you choose to purchase is high quality and will last for a very long time. Furthermore, all of Yamaha's electric bicycles come with a 1-year warranty. Therefore, they will pay for and replace any defective parts with no extra cost to you. 
So when it comes to the costs of a Yamaha electric bicycle, you will be paying $2,399 for their cheapest economy bicycle. Which is intended for daily commutes to work within the city limits. However, if you are more of an off-road mountain biker, you will be looking to pay up to $5,499 for their most expensive bicycle.
What Are The Different Electric Bicycles Made By Yamaha?
As previously stated, Yamaha makes and produces eight different electric bicycles. Their bicycles are classified into three separate categories; economy and fitness, all roads, and mountain.
Economy And Fitness
First off, let's talk about the economy and fitness electric bicycles that Yamaha has to offer. The electric bicycles in this section are the cheapest on Yamaha's catalog. These bicycles are meant for an easy and smooth ride through the city or town you live. The economy and fitness electric bicycles are perfect for commutes to work, traveling to a friend or family's house, and even for fun rides around town.
Two different electric bicycles are in this category, the Cross Core and the Cross-Connect.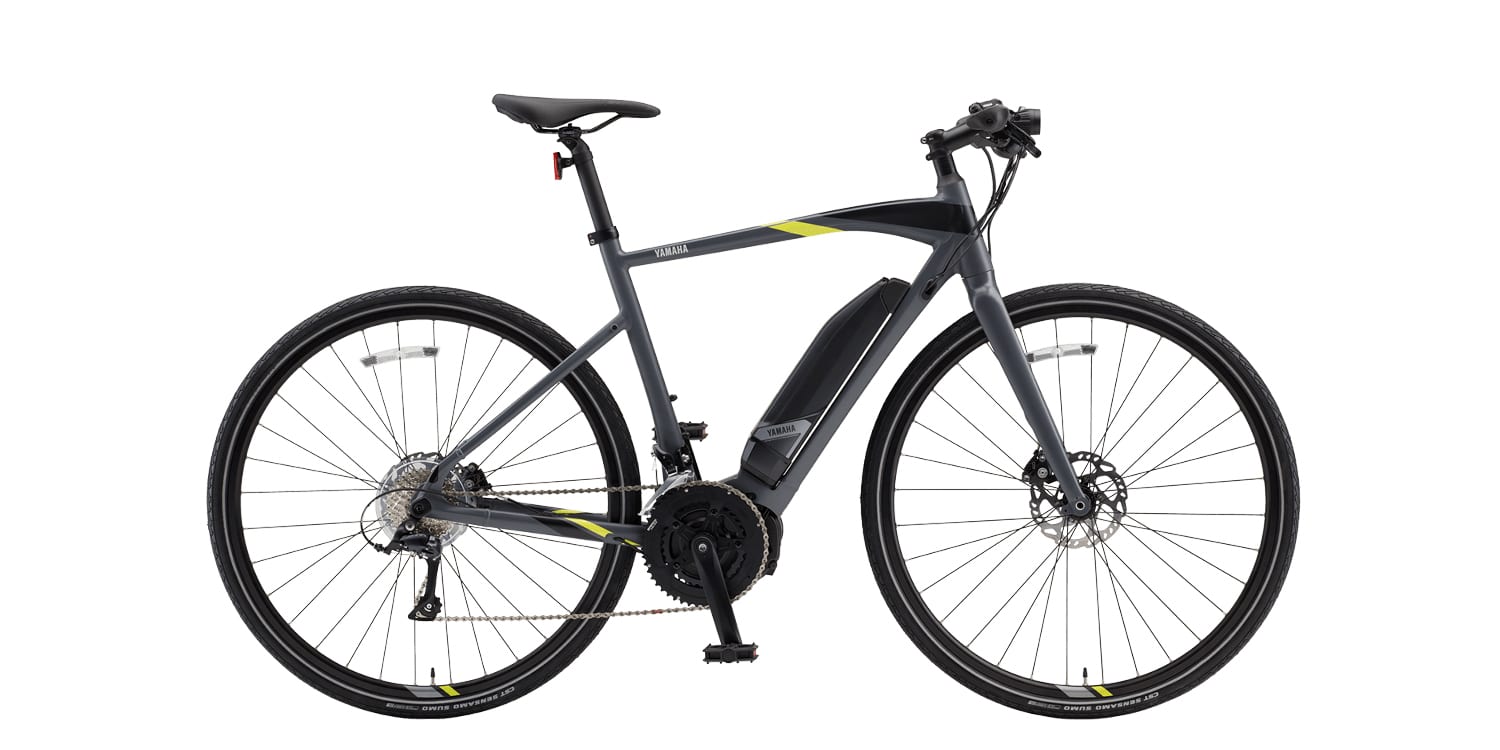 The Cross Core is Yamaha's most inexpensive electric bicycle in their catalog, with a price tag of $2,399. However, this electric bicycle comes with the quality guarantee that you will get from all of the other electric bicycles made by Yamaha.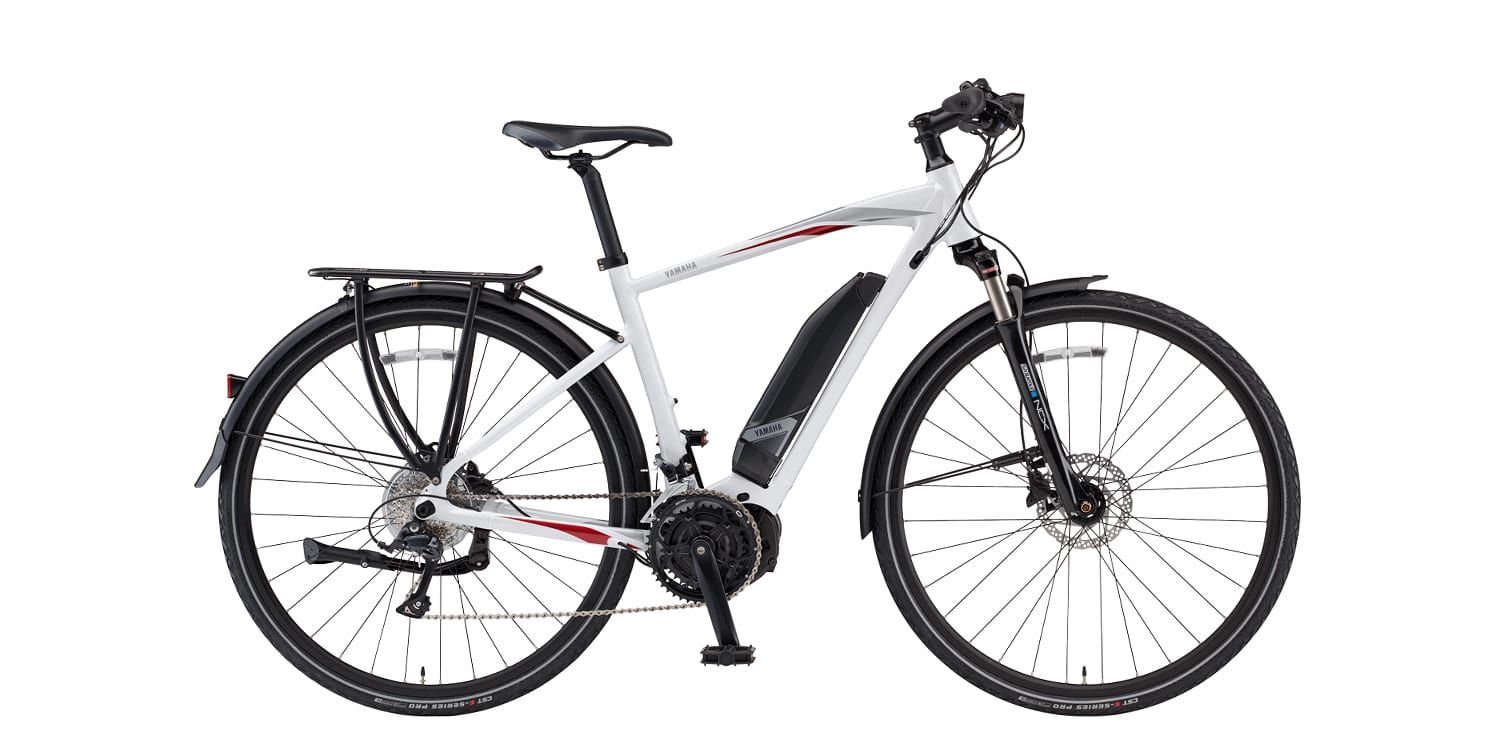 The Cross Connect is the only other electric bicycle in this category. However, the cross-connect has a slightly higher price tag of $2,999. 
Both the cross core and the cross-connect are very similar in design and function. For example, both come with a 500Wh battery with a maximum range of 80 to 100 miles before needing a recharge. Not only that, but they come with the same motor and the patented triple sensor system.
Where these two electric bicycles differ are the frames. The Cross Core is more of a bare-bones electric bicycle. In contrast, the Cross Connect has a side exiting battery that provides the rider with a more secured center of balance. Not only that, but the frame of the cross-connect has a stair step, stack, and reach dimension, which will ensure that all riders can mount and ride this bike with ease. 
Furthermore, the cross-connect comes with fenders pre-installed onto the bicycle, including a rear fender with an integrated tail light. Something that the cross core does not have.
All Roads
The all roads line of electric bicycles by Yamaha are more potent than the economy and fitness line. These electric bicycles are made for longer rides and are designed with comfortability and handling in mind. This line of electric bicycles is also designed to handle rougher roads and trails due to their improved shock absorber system in the fork. 
The all roads line had three different electric bicycles; the Urban Rush, the Wabash, and the Civante.
The Urban Rush is the first in this category and has a steeper price tag of $3,299. The urban rush has a sleek and stealthy look. The urban rush was the first electric bicycle in this line and set the other two standards.
The Civante is the next electric bicycle we are going to take a quick look at. This bicycle cost a little more than the urban rush, with a price tag of $3,399. However, the Civante differs from the rest of the bicycles in this section because it is a class 3 electric bicycle while the others are class 2. 
The Civante has an increased maximum speed of 28 miles per hour and is more suited for riding on roads than other surfaces. The Civante also has the newest battery upgrades. As a result, the battery for the civante is able to charge extremely quickly, charging from 0% to 80% in just under an hour. 
The Wabash is the most expensive electric bicycle in this category and costs $3,499. Its jump in cost is that it is a more capable off-road bicycle than the other two. While the other two bicycles can go off-road, the Wabash excels there. It has a sturdier frame, thicker tiers, and increased stability from the wider grip on the handles. All while still providing increased comfort for long-range rides. 
Mountain
Finally, we've come to the last section of Yamaha's electric bicycle catalog. Yamaha's mountain bikes and all road bikes differ in the increased durability of the frame and wheels. Each of the electric mountain bicycles from Yamaha also comes with an incredibly stable 120mm fork and Maxxis all-terrain tires. 
There are also three electric bicycles in this category; the YDX Torc, the YDX Moro, and the YDX Moro Pro.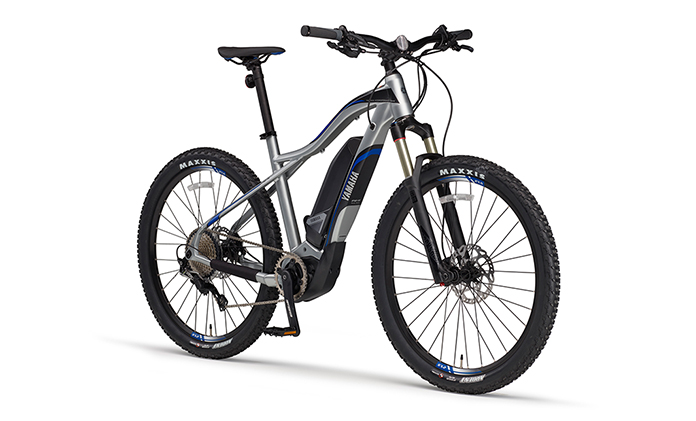 The YDX Torc is the first electric mountain bike that we will talk about in this category. With a price tag of $3,499, the YDX Torc is the cheapest and simplest mountain bike produced by Yamaha. 
The YDX Torc is the first to sport Yamaha's PW-X motor that they designed for their mountain bike line. This new motor is more powerful than all of the other motors they have developed. In addition, the new PW-X motor has 5 power assist levels instead of 4, while also being smaller, lighter, and stronger.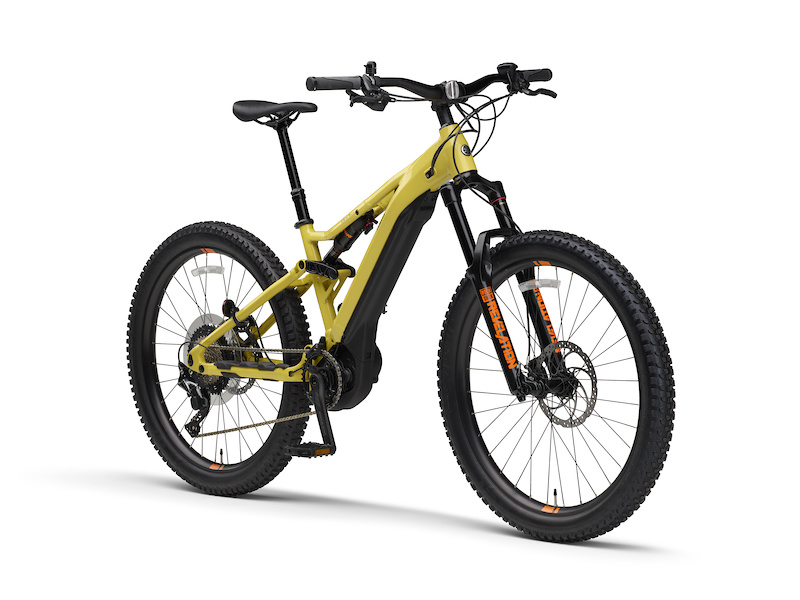 The YDX Moro is where Yamaha's electric bicycles start to get expensive, but with good reason. The YDX Moro will cost you $4,499 and has everything the YDX Torc has but is better. Instead of the PW-X motor, the YDX Moro has an even stronger PW-X2 motor. Along with the motor upgrade, the YDX Moro is 11-speed is faster than the YDX torc. Not only that but the suspension fork, frame, and tires are all more durable.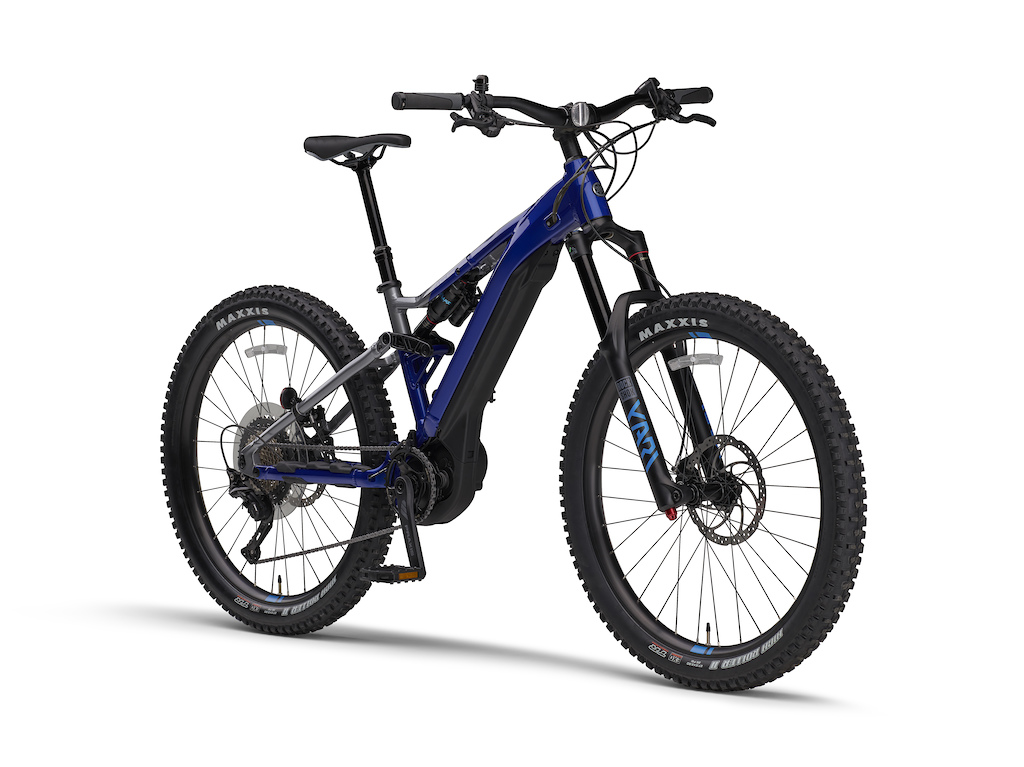 The YDX Moro Pro is the most expensive electric bicycle by Yamaha to date. The price tag is substantially higher than all of the others, costing you $5,499. However, the YDX Moro Pro further enhances the mountain biking experience. The IDX Moro and YDX Moro Pro are almost identical. Except for everything the Moro improved on the Torc, the Moro Pro improved even further. 
The suspension fork on the Moro Pro is stronger, and the 11-speed gear shift is even faster. Not to mention the Moro Pro has a four-piston rear brake caliper instead of the two-piston on the standard YDX Moro. The new brake system will ensure that you stop when you need to on those challenging trails.
Final Thoughts
Yamaha is a fantastic company that produces top-of-the-line electric bicycles. While the price tags of their bicycles can seem high, the quality of parts that go into their bicycles is the best there is. Thus, ensuring their mountain bikes' safety, comfortability for all road bikes, and affordability for their lifestyle and fitness bikes. Yamaha is one of the best electric bicycle manufacturers that you could go with.
IntermountainBikes.com is a participant in the Amazon Services LLC Associates Program, an affiliate advertising program designed to provide a means for sites to earn advertising fees by advertising and linking to Amazon.com. We also participate in other affiliate programs which compensate us for referring traffic.