Where To Find Gazelle E-Bikes In The US
When it comes to electric bicycles, there are a few brands that stand above all others. One of these brands is Gazelle. Gazelle has been making bicycles for over 100 years, with their first electric bicycle being made in 1937. Needless to say, Gazelle is a reputable brand based in the Netherlands that makes some of the best electric bicycles money can buy. But can you get Gazelle bikes in the United States, and where can you get Gazelle e-bikes in the US?
If you're a United States citizen, then you do not need to worry. Gazelle made their first bicycle factory in the United States in 2017, located in Santa Cruz. Not only that, but Gazelle has multiple stores in every state, making it very convenient for us to purchase and use their high-quality bicycles and e-bikes. While you are able to go into one of their many stores across the United States, you can also purchase their bicycles online and have them shipped to you!
As you continue to read this article, we will go in-depth about the Gazelle brand and its history-making bicycles. Furthermore, we will give you some examples of our favorite gazelle electric bicycles and reviews.
Gazelle Electric Bicycle History
Gazelle has been around for a very long time. The company was first founded in 1892, where they were importing bicycles from England for sale. It took around ten years before Gazelle was able to afford to purchase and use their own materials to start making bicycles on their own. 
By 1920, Gazelle was a heavy hitter in the bicycle manufacturing game. They were selling bicycles throughout Europe and India. Then, in 1932, Gazelle started working with Phillips to make their first electric bicycle. While Gazelle's first electric bicycle was a commercial failure, it paved the way for later development, making Gazelle a leader in the field of electric bicycles.
Where To Find Gazelle Electric Bicycles In The United States
Luckily for the United States and Canada, in 2017, Gazelle opened up their first factory in Santa Cruz, California. Because of this new factory, Gazelle e-bikes have seen a boom in popularity in both the United States and Canada. 
The new factory has led to Gazelle stores being opened across both countries allowing everyone to experience why Gazelle is one of the best electric bicycle manufacturers. Furthermore, you can purchase Gazelle bicycles online and have them shipped to you faster than ever before. 
Rather than waiting weeks or months for your bicycle to be brought overseas, you will only need to wait a week at most. This also allows us to skip paying for the massive shipping cost of overseas delivery, which is a massive bonus in our books. 
Are Gazelle Electric Bicycles Good?
Any organization that has been in operation for more than 130 years understands what they are doing. Gazelle only employs the best parts money can buy. Gazelle places such a high value on their product that they provide a 10-year guarantee on all materials and manufacturing problems that may emerge on the frame and non-suspension forks.
In addition, the business provides a 5-year guarantee on the front suspension forks and painting on the complete frameset. All other parts, including electric and mechanical components, are covered by a 2-year warranty.
Gazelle's e-bikes provide smooth, strong, and predictable performance owing to tried-and-true Bosch and Shimano motors and batteries. All Gazelle e-bikes include mid-drive motors from Bosch Active Line Plus, Performance Line, and Shimano STEPS. The majority of batteries are built into the frame and have a capacity of 400–500Wh and a range of up to 100 miles. That's ideal for a few days of commuting, leisure riding, or exercise.
Gazelle makes a wide range of bicycles for a variety of applications. However, keep in mind that these are not high-performance bikes. Because the business prioritizes comfort above speed, the majority of bikes feature relaxed geometry that places the user in an upright riding position. These bikes also have comfortable seats and ergonomic grips, and many models have step-through and low-step frames that make mounting and dismounting simple.
Gazelle currently produces just eight bicycle types, seven of which are electric and one of which is analog. While this is not a vast selection, it indicates that the corporation prioritizes quality above quantity.
Gazelle has come up with a brilliant way to sort their bicycles into three separate categories. Each category specializes in certain areas and offers different performance, geometry, and riding feel. 
Easy models offer a more upright riding position, giving you a more relaxed and comfortable riding position. The Easy line of bicycles is for riders who want more comfort than anything else.
Active models are made to be used more often than the Easy models. The Active models are made for daily use and longer commutes while offering a more dynamic feel for the rider. The Active line also sports more powerful motors as well.
Last but not least, the Sportive models offer a more aggressive seating position which requires the rider to lean forward more. This line of electric bicycles is for riders who want to focus on fitness—offering higher gear ratios, stronger suspension forks, state-of-the-art disc brakes, and powerful motors that have a max speed of 28 miles per hour. 
Are Gazelle Electric Bicycles Worth The Cost?
There is a rule of thumb for us when we are purchasing electric bicycles, never go under $1,000. If you are spending less than $1,000 on an electric bicycle, you will see a significant drop in quality and performance. 
While some of the cheaper electric bicycles can get the job done, they usually sacrifice one or more aspects that make the more expensive bikes worth it. Whether that be the comfortability, performance, battery life, or speed, you can guarantee Gazelle e-bikes are well worth the cost because they come with all of those aspects and more. 
Gazelle's prices on their electric bicycles are not that steep. One of their lead competitors, Yamaha, offers electric bicycles comparable to Gazelle but tends to cost more. While Yamaha offers electric bicycles that are more well suited for specific needs, Gazelle focuses on daily performance and comfortability above everything else. 
Gazelle Bikes, notably the Gazelle Ultimate, are designed for speed. Its slim shape conceals it, and even the battery is not immediately visible. Once you settle on its comfy seats and turn on the motor, it will propel you to speeds of up to 20 mph. That's quick enough to be useful for commuting, but not so fast that it's difficult to control. Make no mistake: this is not a mountain bike; if you want an electric mountain bike check out Yamaha's Mountain models. When traveling on terrible road surfaces, it does include a robust suspension front fork.
Gazelle bicycles epitomize excellence. Even the most inconvenient components of an electric bike, such as the springs, have been upgraded to a high-quality standard. And a significant part of it is due to its integration of Bosch performance; Bosch is no slouch in terms of performance. Yes, Gazelle Bikes, the Ultimate, is a costly bike, but in exchange, you get an exceptionally high-quality bike that you can rely on for peaceful travels to and from, a braking system that responds on a dime, and a vehicle when commuting.
All-in-all, Gazelle e-bikes are more than worth the cost. You get a guarantee that your Gazelle bike will last many years while continuously operating at peak performance. Furthermore, Gazelle offers a 10-year warranty on all materials and possible manufacturing defects. Gazelle even offers a 5-year warranty on their suspension forks and paint jobs. Finally, Gazelle offers a 2-year warranty on all electrical and mechanical components. 
Best Electric Bicycles Made By Gazelle
Now that you know that you can get Gazelle e-bikes in the United States relatively quickly and that you are getting your money's worth, let's take a look at some of our favorite electric bicycles from Gazelle. 
Ultimate C380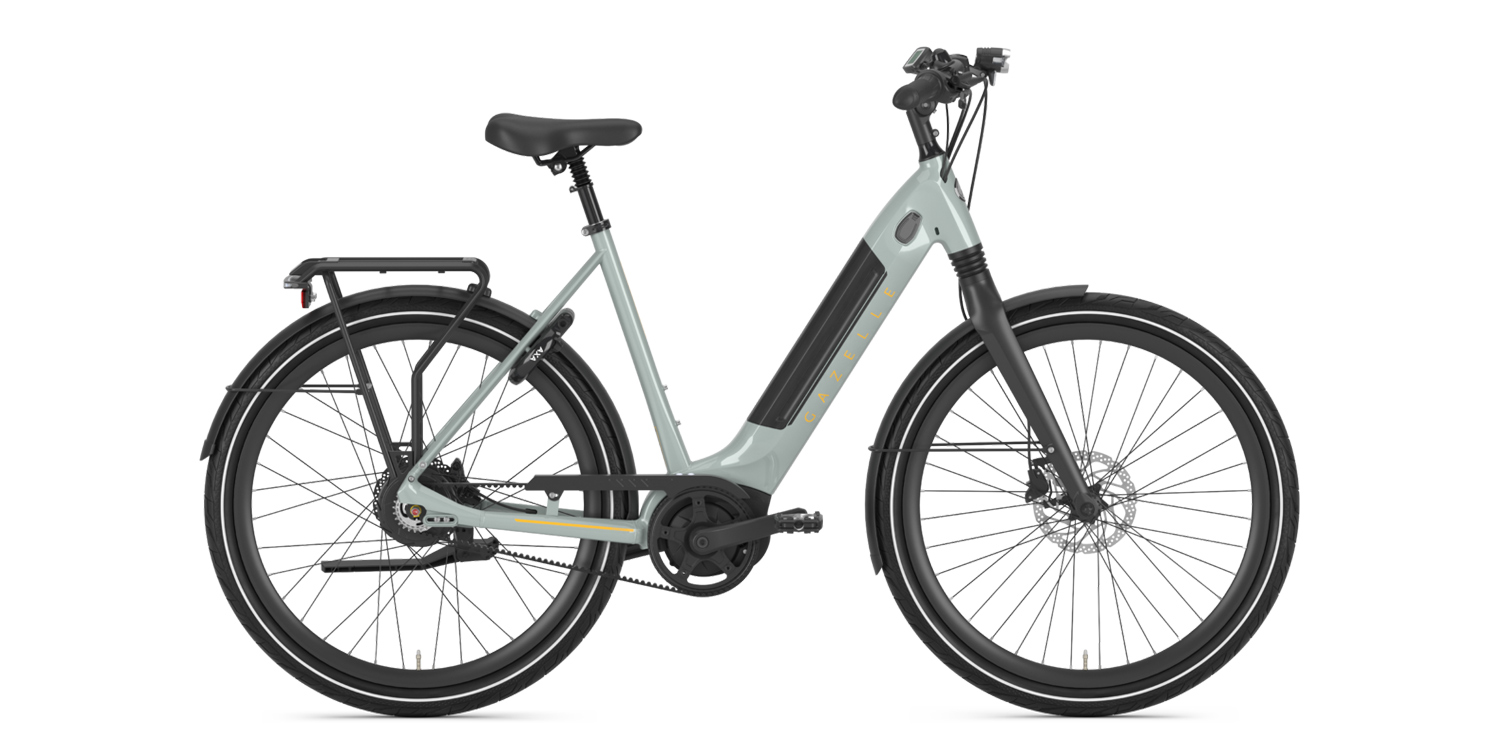 The Ultimate C380 is one of Gazelle's more luxurious versions. It has an appealing low-step aluminum frame with a relaxed shape that is suitable for a wide range of jobs. It also has a 40mm travel front suspension fork. Some may see the price as exorbitant at first, but you will discover that you receive a lot for your money upon closer study.
First and foremost, the Ultimate C380 is a Class 2 e-bike powered by a Bosch Performance Line motor with 65Nm of torque and a maximum aided speed of 20 mph. This mid-drive engine is combined with a 500Wh battery, which allows for up to 70 miles of aided riding.
This bike is simple to ride even with limited assistance, owing to the excellent Enviolo trekking hub allows stepless shifting. In addition, Envio allows you to set your favorite resistance by merely turning the shifter, even when fully stopped. There's also a carbon belt drive that requires less upkeep.
The Ultimate C380 is easily one of the best bicycles that Gazelle produces. It is perfect for those who commute regularly.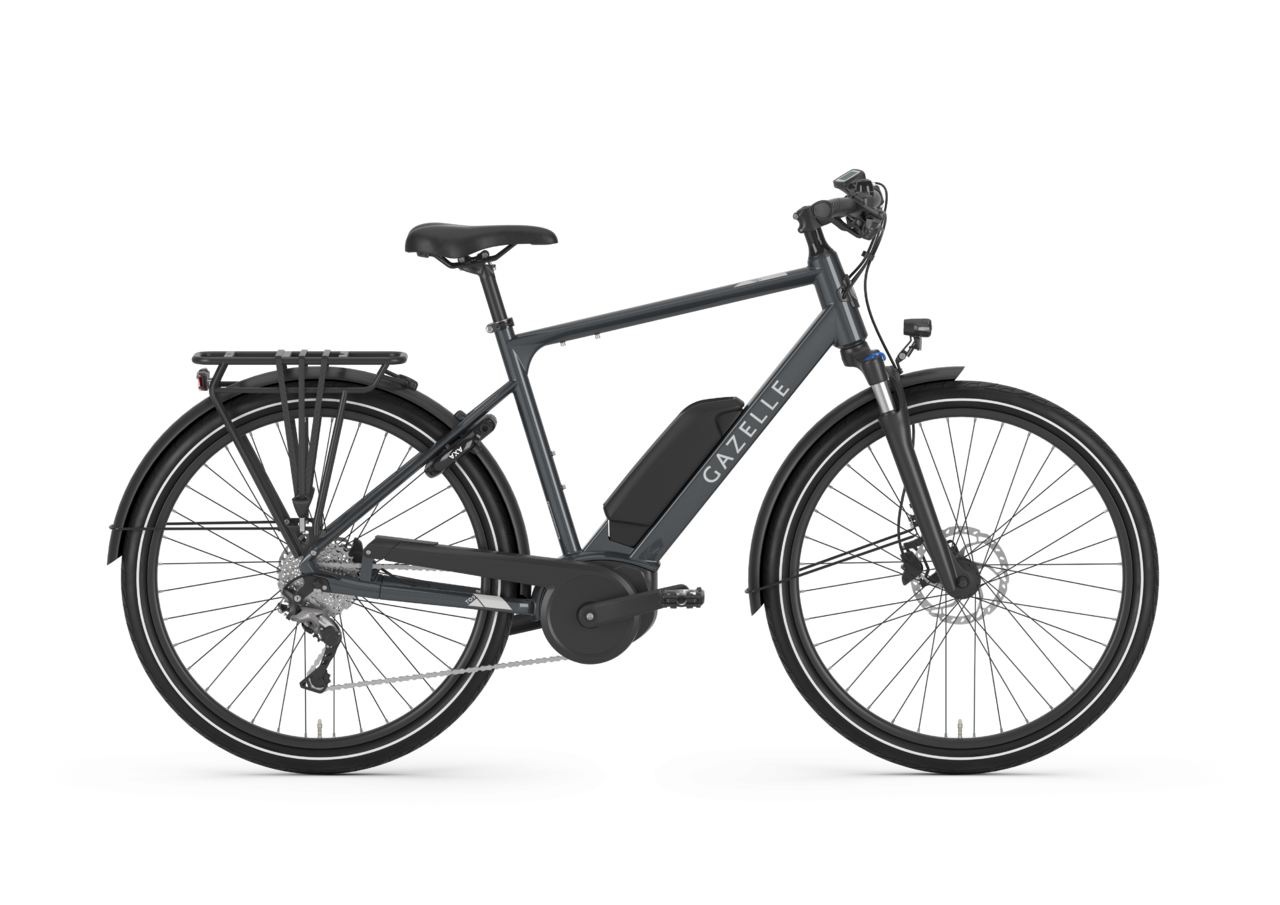 The Medeo T9 is one of the most affordable Gazelle models, making it perfect for riders on a low budget. Its aluminum frame is available in step-over and step-thru configurations, and it has a front suspension fork. This e-bike is propelled by a Bosch Active Line Plus mid-drive motor with a torque rating of up to 50 Nm. It can help you up to 20 mph, indicating that this is also a Class 2 bike.
In Eco mode, the 400 Wh battery delivers up to 60 miles of range, which is not terrible. However, keep in mind that it is not incorporated into the frame and instead rests on the back rack. This is not a perfect arrangement, but the bike remains relatively stable.
The mechanical components of the Medeo T9 include a Shimano Alivio 9-speed rear derailleur and Shimano 2-piston hydraulic disc brakes. This is a terrific arrangement for commuting and riding around the city.
Not to mention the Medeo T9 may be outfitted with a plethora of accessories. Fenders, a rear rack, lights, a chain guard, and a ring lock are available. You can also ride this bike on dirt roads and mild trails with ease. Because of its big tires and 50mm suspension fork, it can manage it.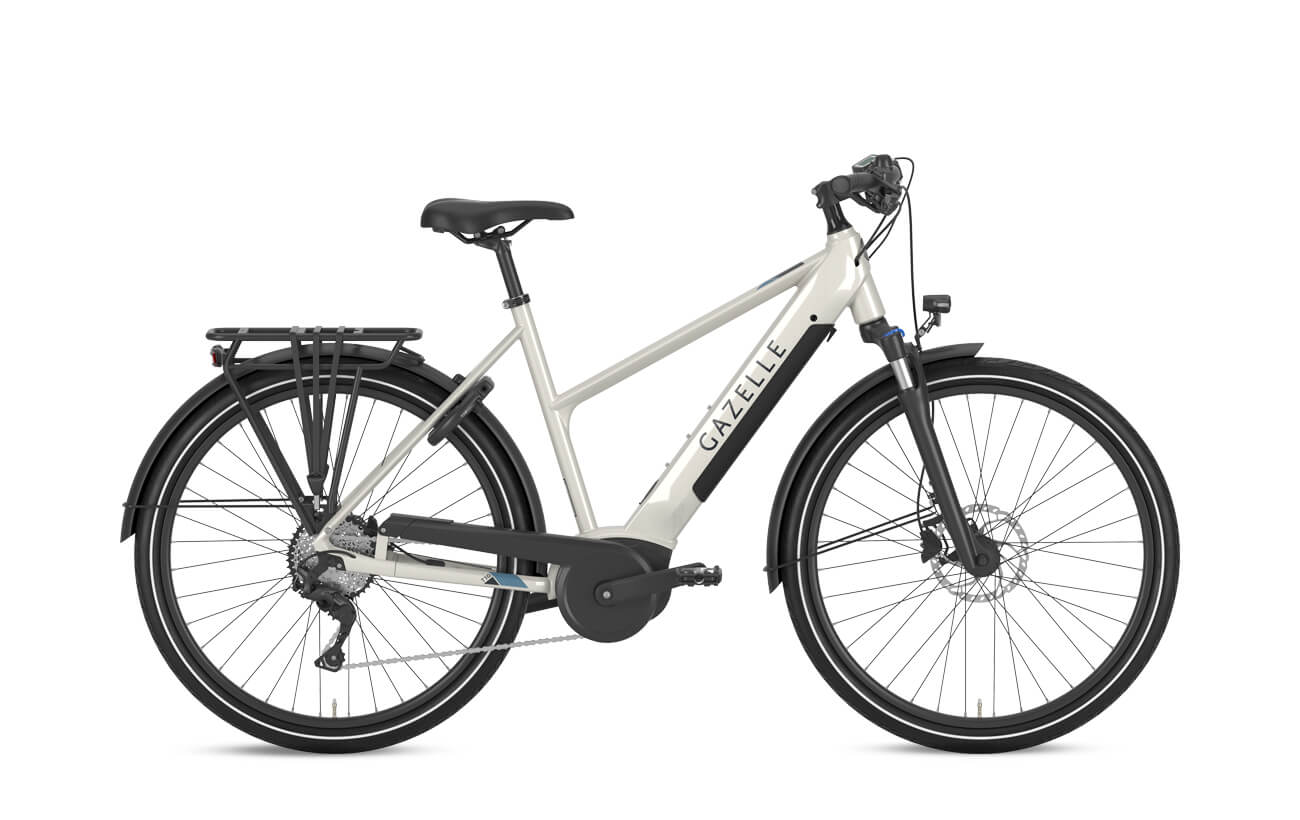 Riders searching for a more athletic and energetic ride might consider this model. The Medeo T10 features an aluminum frame with forward-leaning geometry, allowing you to ride faster with less effort. It is available in both a step-over and a step-through variant. This bike is designed mainly for paved roads and city streets, although it can also handle specific dirt routes. Poor road surfaces are no problem because they feature large tires and a 30mm front suspension fork.
It will help you up to 20 mph for up to 70 miles as a class 2 e-bike. This is made feasible by a Bosch Performance Line motor and an integrated 500Wh battery housed within the down tube. Shimano Deore's 10-speed rear derailleur provides typical gearing on the Medeo T10. It also has Deore 4-piston hydraulic disc brakes, which allow you to stop on a dime even while carrying big loads.
Like all of the other bicycles on this list, the Medeo T10 comes with the same accessories.
Final Thoughts
Gazelle has been around for over a century, and their quality-made bicycles have never wavered. From their first attempt in 1937 to their booming success in the early 2000s, Gazelle produces some of the best electric bicycles in the world. And with their additional factory in the United States, stores have been popping up in every state, making it so much easier for us to enjoy Gazelle's electric bicycles.